News from Nova Scotia - Dalhousie University Libraries
Submitted by

corinne.gilroy

on Wed, 2015-02-04 19:38
MICHELE CHARLTON & MARLO MacKAY
Making Sense of Helen Creighton's Sound Recordings
Helen Creighton was a Canadian folklorist who collected songs, stories, and myths, mostly from her home province of Nova Scotia. And Creighton Barrett (name is purely a coincidence) is the Digital Archivist for the Dalhousie University Archives who has been researching Helen Creighton's work since he was a music student at Acadia University in 2004.
In 2014, Barrett received three grants to support his current research project, entitled: Investigation of Sponsorship, Copyright, and Intellectual Property Issues Surrounding Helen Creighton's Folk Song Recordings.
Barrett's project is attempting to answer several research questions about the copyright and intellectual property status of folk song recordings made by Helen Creighton, but it is rooted in his broader interests in the archiving of folklore and cultural heritage.
"My research interests involve the documentation and preservation of intangible cultural heritage. Academic researchers are typically leading these efforts, which often lead to the creation of vast multimedia archives with complex ethical, legal, financial, and technological obligations for the academic libraries and archives that end up taking custodianship of these materials. Intangible cultural heritage has also emerged as a key component of education, tourism, and cultural initiatives, yet many of the most pertinent resources are distributed across multiple institutions, poorly described, and mired in questions about copyright, intellectual property, evolving organizational priorities, financial challenges, etc.," says Barrett.
"I want to pull together all the information about Helen Creighton's collection and find a way for the archives that hold her recordings to work together," says Barrett. "There are copies of the same songs held in various archives, and it's difficult to tell where the original recording is located," says Barrett. Pieces of Helen Creighton's collection can be found in the Nova Scotia Archives, Mount Allison University, Université Laval, the Canadian Museum of History, and in the Library of Congress in the United States.
On March 18, 2015, Barrett will give a free public lecture to the Royal Nova Scotia Historical Society, entitled: American sponsorship of Helen Creighton's folk song collecting in Nova Scotia during the Second World War.
More information about this public lecture will be available in the coming months.
This story is also available on Dalhousie Libraries' Libvine blog: https://blogs.dal.ca/libraries/2014/11/making-sense-of-helen-creightons-sound-recordings/
Sandy Dwyer, Interim University Librarian at King's
Congratulations to Sandy Dwyer, who has accepted the role Interim University Librarian at the University of King's College, fulfilling this role on a half-time basis from October 27, 2014 to October 30, 2015 while the current university librarian is on maternity leave. She will spend the other half of her time continuing in her role as Director of Human Resources & Coordinator of Access Services at the Dal Libraries.
Sandy brings with her more than 20 years of supervisory and management experience in a library environment. She has more than ten years of administrative experience, as the Manager of Circulation at Killam Library, managing 17 support staff and as many as 30 student assistants. She also has extensive experience interviewing, hiring, training, mentoring and evaluating staff.
Sandy received her Master of Library Information Studies from Dalhousie. She has worked for the Dalhousie Libraries since 1990, holding various positions from Weekend Shelving Coordinator, to Evening Circulation Supervisor, to Assistant Head of Circulation, to Manager of Circulation.
In addition to being a great professional opportunity for Sandy, her appointment as King's Interim UL presents an opportunity for the Dalhousie and King's Libraries to strengthen our relationship and explore additional ways to collaborate.
Congratulations to Sandy on this appointment! 
This story on Libvine: (https://blogs.dal.ca/libraries/2014/10/sandy-dwyer-new-interim-university-librarian-at-kings/)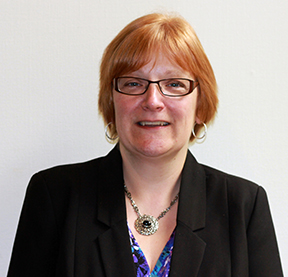 Michele Charlton, Interim Communications Coordinator
Dalhousie Libraries are pleased to welcome Michele Charlton to the role Interim Communications Coordinator. Michele comes to Dalhousie from the Alzheimer Society of Nova Scotia, where she was the Manager of Communications, and Coordinator of Volunteer Resources. She is replacing Marlo MacKay while she is on maternity leave.
Michele is a graduate of Dalhousie University, with a Bachelor of Arts in Sociology and Social Anthropology. She obtained an Advanced Diploma in Public Relations from the Nova Scotia Community College.
Michele's focus will be on promoting and publicizing the resources and services of the Dalhousie Libraries.
Welcome Michele!
In Memoriam – Ann D. (Manning) Nevill
It is with great sadness that we announce the passing of Ann D. (Manning) Nevill, former director of the W. K. Kellogg Health Sciences Library from 1979–89.
Ann was an effective and innovative leader in the Canadian library community. At the Kellogg Library she directed the library through its merger with Dalhousie University Libraries. She led the library's first steps into the electronic environment and led the development of a circuit rider health librarian program in the Annapolis Valley. As director, she partnered extensively with other health libraries in the region.
As well as directing the Kellogg Library, Ann directed the Bedford Institute of Oceanography Library, and was the first trainer of the Medlars system in Canada during her time with the Health Sciences Resource Centre at National Research Council-CISTI. At various times, she served as president or on the executives of the Canadian Library Association, Atlantic Provinces Library Association, the International Association of Aquatic and Marine Science Libraries and Information Centers (IAMSLIC), and others. Of particular note, she was a member of a small group of Canadian librarians who led the founding of the Canadian Health Libraries Association.
Ann also chaired the project committee that led to Libraries Without Walls authored by MA (Babs) Flower.
Her colleagues remember her fondly and with gratitude for her mentorship and leadership.
This story on Libvine: blogs.dal.ca/libraries/2014/10/in-memoriam-ann-d-manning-nevill/
Photo: Ann, at her retirement party from the Kellogg Library in 1989.
The new Novanet
The new Novanet went live at Dalhousie Libraries on Monday, December 22!
In addition to getting search results, the following things will be able to be accessed through the new Novanet:
The ability to search for books, articles, and more, through one simple, streamlined interface

Access to full text eBooks and articles when available

The ability to place holds and Novanet Express requests

An option to request material through the Document Delivery Service

Access to LiveHelp Chat for assistance with research questions

The ability to log in to your Novanet account to check status and renew loans online
Dalhousie's Novanet instance also gives you the option of using 3 different search tabs:
Search
This tab searches books, journal articles and all other resources available through this search tool, including: e-books, journal titles, maps, videos, audio recordings, government documents, music scores, newspaper articles, reviews, and conference proceedings.
Books +
This tab searches books, e-books, journal titles, dissertations, technical reports, videos, audio recordings, government documents, and music scores available to Novanet institutions.
Articles +
This tab searches journal articles, journal titles, newspaper articles, reviews, technical reports, and conference proceedings available through many of the library's electronic subscriptions.
The implementation of the new NovaNet and Primo was a NovaNet-wide process, providing an improved search experience for the user.
Wallace McCain Learning Commons
The Wallace McCain Learning Commons is a new student study space and welcome centre at Dalhousie, currently under construction and scheduled to open in September 2015. Offering accommodations for collaborative learning, computer access, quiet study and bookable group study space, it is the first of four proposed learning commons facilities planned to address student needs. The Wallace McCain Learning Commons will be an inviting and modern learning space offering services from Dalhousie Libraries, the Faculty of Science, and Student Experience to benefit Dalhousie students, as well as the broader community.
Phase II of construction was completed on schedule at the end of December 2014, which includes concrete work on footings, foundation, columns and roof slab. The contract for Phase III, building envelope and interior fit-ups, was recently awarded to Bird Construction and work will commence in the coming weeks.
Location: At the end of Lord Dalhousie Drive, connected to the LSC corridor.
Size: 13,000 sq. ft. Budget: $6 M
Open Access Week 2014
Open Access Week, a global event now entering its eighth year, is an opportunity for the academics and researchers to continue to learn about the potential benefits of Open Access, to share what they've learned with colleagues, and to help inspire wider participation in helping to make Open Access a new norm in scholarship and research (from the Open Access Week website: www.openaccessweek.org/page/about).
The most recent Open Access Week took place October 20–26, 2014. The Dalhousie University Libraries hosted two events on the theme of open access:
Differing Perspectives on Open Access: a panel discussion
Open Access refers to publication of scholarly research that is free and online. Proponents of open access believe its widespread adoption will benefit society, but there is concern about quality control. Join us for a panel discussion with Julia M. Wright, Professor of English and Associate Dean Research of the Faculty of Arts and Social Sciences, speaking from the perspective of a Social Sciences and Humanities Research Council researcher; Geoff Brown, Digital Scholarship Librarian with the Dalhousie Libraries, speaking from the Libraries' perspective; and Jonathan Crago, Editor-in-Chief at McGill Queen's University Press, speaking from the perspective of a Canadian university publisher. University Librarian Donna Bourne-Tyson will facilitate the panel. This event will be followed by a reception.
Thursday, October 23, 2014, 4–5:30 p.m.
Room 224, Student Union Building
Open Access at MIT Press: OA in a large university press
Nick Lindsay, Journals Director at the Massachusetts Institute of Technology Press and Dalhousie University alumnus, will talk about the MIT Press journals division's experience with open access. Nick describes himself as neither an open access advocate nor a cynic, and from this perspective he will discuss several real-world examples of publishing journals using an open access model, challenges facing the publishing industry in a hotbed of pro-OA sentiment at MIT, and where he thinks the future of OA at MIT Press is going. This presentation will be live via Skype, and Nick will take questions afterward.
Friday, October 24, 2014, 1 p.m.
Room 2616, Killam Memorial Library
Thank you to all of our Open Access Week presenters!
World Day for Audiovisual Heritage: University Archives Releases Footage of "University of the Air" TV show
The Dalhousie University Archives celebrated World Day for Audiovisual Heritage (www.un.org/en/events/audiovisualday/) on October 27, 2014. The United Nations created this day "as a mechanism to raise general awareness of the need for urgent measures to be taken and to acknowledge the importance of audiovisual documents as an integral part of national identity."
This year's theme "Archives at Risk: Much More to Do," is a fitting theme for the University Archives, which has been working with Preservation Technologies (preservationtechnologies.ca/) to digitize select obsolete audiovisual media such as 1/4 inch and 2-inch audio reels, Betacam, U-Matic, and other formats (check out this post about a Dutch Mason master recording: blogs.dal.ca/libraries/2013/12/university-archives-digitizes-dutch-mason-master-recording/). We're also hosting Young Canada Works Intern Dave MacLachlan on an audiovisual archives internship. Dave has been assessing our audiovisual collections for preservation and access, and helping us develop procedures for working with obsolete media.
To celebrate World Day for Audiovisual Heritage, the Dalhousie Archives released 20 archived episodes of a television program called "University of the Air." University of the Air was a distance learning initiative started by CTV's regional television affiliates. Production of University of the Air started in 1966, and continued until 1983. Episodes were produced by university faculty members across the country. 
The University of the Air courses were structured into series of five episodes based on a central theme. This collection of videos from Dalhousie comprises four such series: "The Oceans," "The Structure of Sound," "20th Century Latin America: Why Revolution," and "Textiles: Their Development and Effects."
Dave MacLachlan worked with Joan Chiasson and Archives Student Assistants Laurie Chase and Andrea Kampen to make the videos available online.  You can view all the episodes in one playlist (www.youtube.com/playlist?list=PL8JKeGVUXmMCYxiBe3SbNYOAZiSq6Uabf) on the Dalhousie Archives' YouTube channel (www.youtube.com/user/DalArchives/). The videos are also embedded into the "University of the Air" finding aid (findingaids.library.dal.ca/index.php/university-of-air) in the archives catalogue.
Wondering where to start? Andrea Kampen produced a short trailer for the playlist (youtu.be/VWlBpo8Ruuo).
This story on Libvine: (blogs.dal.ca/libraries/2014/10/world-day-for-audiovisual-heritage-university-archives-releases-footage-of-university-of-the-air-tv-show/)